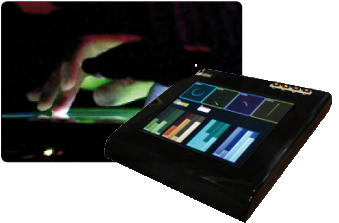 TOUCH PANEL INTERFACE
Multitouch panel interface can be used connected over a Open sound Control link. This interface can be used as a voice tracking hardware controller, an audio editor interface or an on air touch screen for instant player a.s.o. The inteface is directly connected on the IP Network.

The device can be programmed. Multitouch can be used for controlling fader, button, slide,...
It's also replacing a touch panel or any dedicated keyboard.